30 July 2009
The Welcome Pack and Prospectus have been updated and the new June 2009 editions are now available for download.
The term dates for 2009-2010 are on the Diary page and are also available for download.
A second testimonial has been added to the Mum's View page. Three of the Policies have also been updated.
21 June 2009
We are all enjoying the summer term at pre school having just finished the topic of senses with some lovely activities helping the children to understand and appreciate their senses a little better. They particularly enjoyed learning about their sense of taste when they got to try different foods including Kiwi fruit, toast, crisps without salt and for a special treat, chocolate birthday cake as we celebrated a special birthday for Linda one of our staff.
We are now having fun keeping fit with our topic of Sport and exercise. Thanks go to Melanie Beeston who came in to treat the children to a session of movement to music and dance. This was very much enjoyed by all the children, helpers and staff. Melanie's music captured their imaginations and everyone moved their bodies to the different beats having a lovely time. Thanks also to Anya Mitchell who came in and helped the children listen and move to the exciting sounds of animals and bugs, this was a great session. In line with this theme we are expecting a visit on 23rd June from Mini Strikers a local company who provide fun classes for young children working on their ball and co ordination skills. I'm sure we will all be running around having a great time on the day.
Our next theme in line with the early year's foundation stage curriculum is time and we have lots of interesting things planned. Towards the end of term we will be exploring the Hungry Caterpillar and our leavers play will be based on this.
Our open morning on the 11th June was a great success; we were visited by lots of current parents and potential pre school children for the years ahead with their parents. Jo Cowley our current committee chair spoke to parents during the morning about joining the new committee for next year. New members are desperately needed because a lot of the current members are leaving as they will no longer have children at pre school. There was a positive response from parents which is promising as the running of the preschool is dependent on the committee as it is a charitable organization. We would like to thank Peter Burton Chair of the Sherington Parish Council, for also coming along and saying a few words about what a valued facility the pre school is to the local community.
The pre school committee would like to thank the Parish Council for their donation towards the new safety matting which was laid in the patio play area. Also to Milton Keynes Council for refurbishing the play house which is used daily for outdoor play.
We are now busily preparing for the end of the school year with some special events. Everyone is invited to the performance of our leavers play on the 14th July, at 10.45 for refreshments and raffle, then a prompt 11.15am start. The main raffle price is a family ticket to see the MK DONS. On our last day of term 16th July, after pre school, we are holding a Big Toddle in aid of Barnardos and a teddy bears picnic which we hope people will enjoy.
We wish everyone a happy and sunny summer and look forward to welcoming the children new and old back on the 7th September 2009 for the autumn term.
Best wishes
Karen Davies
21 May 2009
May has been an exciting and busy month at Sherington pre-school the children have been learning about the weather and about different types of patterns, with some great weather charts and interesting patterned animals coming home.
Jane the librarian from Newport Pagnell Library came to entertain the children with some lovely stories which they really enjoyed particularly as the weather was so nice we could all sit outside. As the weather has been good generally we have been able to put all activities outdoors some days and enjoy the learning experiences the patio area has to offer.
The "Fun on Fridays" older children have enjoyed two visits to the Sherington First School, with a great variety of activities such as Pond dipping, ICT and planting seed potatoes. These visits have allowed the children to become familiar with the school environment and used to interacting with the older children.
We have just welcomed Joshua to the preschool family and wish him every happiness during his time with us.
The children have also participated in the preparations for the pre-school's biggest fund raising event of the year the Spring Fayre on 16th May which raised over £1000. The children opened this event with some lovely singing of their favourite fun songs. Twizzle from 360° play was our star guest and he cut the ribbon to let the visitors pour in. The day was a great success much due to the hard work of the committee members, parents, and Grandparents who helped on the day. Thank you to all those who kindly made donations and those that came to spend their hard earned money. Special thanks go to Jo Cowley who masterminded the event.
The numerous stalls included Usborne books, Alban Hill Plant Nursery, Miss Makeovers, Partylite candles, Flower Pot men, Ella's Jam, Stanley Smith, and the Phat Pasty van which provided hot and tasty snacks. Many thanks to you all, for adding such variety to the day. Steve and Chris from the Milton Keynes Play Association were particularly great bringing their bouncy castle and entertaining the children.
We would also like to say Thank you to the following people for raffle prizes:
Melanie Beeston, for the free ballet classes
James Gardner for the free shooting Session
Anya Mitchell for the free hair cut and finish
360° Play for the family ticket
Kingston Gym for the free sessions
Toddler Time for the free sessions
Alban Nurseries
Anker International for their generous donations for the children's tombola
The last thank you's go to Michael Graham for the professional signs and Adrian for taking them down. Betty Feasy for the bunting, and not leastly Sharron, for providing the helpers with Treats whilst setting up.
And finally for June our Themes will be the Senses, sport and exercise and we have some great things planned. On the 4th June due to the voting in the hall there is a family visit to Emberton Park planned, let's hope for good weather. This event marks the start of the new half term and the run up to the summer holidays.
Best wishes
Karen Davies
New Prospectus and Welcome Pack
The revised Prospectus and Welcome Pack are now available for download.
2009 Spring Fayre - Saturday 16 May
Full Spring Fayre details

Click here to read the letter from Joanne Cowley
22 March 2009
Spring has definitely arrived in Sherington pre-school with an exciting range of spring- like activities for all to enjoy.
On the 11th of March sixteen of the children visited Sherington School; Mr. Storey had invited them to pot- up some young trees which will be planted out in the autumn at Stone Pits as part of a community project. They also had time to enjoy the Physical play in the sandpit, balancing beams and running around in the big playground. Indoor activities included playing in the play corner, with the play dough and listening to Percy the park keeper stories. Thank you for making us feel so welcome and for the lovely jacket potatoes, with a choice of fillings. The children had a great time and enjoyed playing with the older children.
We celebrated red nose day on 18th March at " Fun on Fridays" our session on Friday afternoon for the older children who are going to school this year. We dressed in red and used this as an opportunity to enjoy all things red. First Lunch was eaten together with chips and blobs of red sauce, baby red tomatoes and red Jelly. Later the children played with red play dough did pouring and measuring with red water, and made wonderful red collage buses. The buses had individual photos of the children in the bus drivers' seat. For snack time Bakewell tarts, red apples and Strawberry Milkshake were on offer, making up a nice balance of treats and healthy options.
On 17th March we had a special visitor to Pre-School a lovely new baby spring lamb; the children had a wonderful time learning about lambs and asking lots of great questions. Thanks go to Brian Reynolds who brought the lamb in.
We welcome Claribel to the pre-school, who has just joined us and wish her every happiness in her times ahead.
Well done to Kerry and Linda who have completed their Food and hygiene course. Also congratulations to Kerry who has recently taken on the job of deputy supervisor, we know you will be great in this new role.
If you are interested in finding out more about the work of the preschool, don't forget you can visit our web site to find out more at www.sherington.org.uk/preschool
Preparations are in full swing for the great pre-school spring fayre on 16th May if you can offer any support please contact Jo Cowley committee Chair, also please put the date in your diary now the children will definitely be putting on a performance to impress all, alongside a great range of other activities and stalls.
In the next few weeks our Themes will be growing and Easter which will help us to prepare for our Easter break, followed by the weather with dreams of sunny longer days. But for now we wish everyone a happy Easter and not to many tasty chocolate eggs !
Best wishes
Karen Davies
28 February 2009
We welcome Mason, Freddie and Mia who have recently started Pre-School.
The children really enjoyed playing in the snow especially during the Fun on Friday session on 6th February. All kitted out in weatherproof playsuits, they took turns on one of the children's sledges. Everyone had a great time.
We held a successful Open Morning on 11th February. The younger visitors played along side the older children and they all enjoyed making collage hearts. Everyone sat down to sing some popular songs before having a snack together.
Our last theme of Role Play and Festivals was very popular. We celebrated Chinese New Year, the year of the Ox by tasting prawn crackers and fortune cookies at snack time, together with other healthier options! The children were also given lucky pennies in traditional red envelopes.
Thanks go to Karen Davies for bringing in some Indian costumes and allowing the children to dress up in them. Books and display items from the Toy Library, run by the Preschool Learning Alliance, also supported the theme. The van visits Pre-School every month when everyone is welcome to hire toys. There are some fantastic things that capture the children's imagination. We hired a story sack with items such as a basket of exotic fruit, which led to lots of discussion! (The van is next visiting at 9.30 on 26th February).
During March our themes are Numbers and Nursery Rhymes. The children will be encouraged to use numbers in their play and our focussed observations will concentrate on their understanding of number names and language. Nursery Rhymes is always a popular theme and lends itself to be interpreted in many ways. We will be focussing on 'creative' development and 'communication, language and literacy'.
The children have been invited to visit Sherington School on the 11th March where they will help to pot up some hedging plants as part of the Community Woodland project at Stonepits Close. Mr Storey has invited the children and staff to stay afterwards for lunch.
Lost….or stolen?
We are sad to report that the order envelope for the Book People was found to be missing on Monday 9th February.
It contained cash and cheques that had been left to purchase books displayed in the entrance of the Village Hall, for Pre-School and Toddler group.
The facility has operated for a long time without any problems, however we will now change the payment arrangements.
If anyone can help shed any light on this, please contact the Pre-School team. Thank you.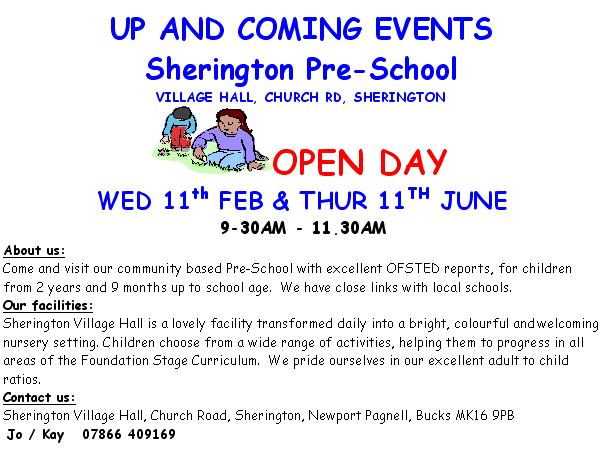 25 January 2009
The children started the new term in very high spirits after the Christmas break, so the theme of 'Puppets and Clowns' was very appropriate! Millie, Gemma and Jack are settling in well, with the older children showing them the ropes. Everyone has been making puppets and both the children and ladies have been putting on shows – much fun has been had by all! As an extra treat to end the theme, an entertainer named The Great Gappo came along on Tuesday 20th to show the children some tricks. He rode his unicycle, juggled, and got everyone spinning plates – it was a fantastic morning, thank you Great Gappo!
Our current theme is Dinosaurs, which is to be followed by Festivals & role play.
During the cold weather, work has been continuing in the outdoor play area, with new matting going down and awning to be installed next week.
We are planning to have open days on 11th February and 11th June so please put the dates in your diaries and come along to visit. It is a wonderful chance to see the children having fun and learning.
If you are thinking of Mothering Sunday gifts without Woolworths to fall back on, we can help – we are planting small terracotta pots with spring bulbs and will be selling them for £2 each – please let us know how many you would like
Another event for your diaries is our Spring Fair on Saturday 16th May, between 1.30 and 4pm - we hope that you will be able to come along and enjoy it. More details will follow, but if you would like to help support or sponsor us your offers will be very gratefully received. Thank you for everything that has been donated so far.
Pre-school can be contacted Monday – Thursday morning, or Friday afternoon on telephone number 07866 409169.
Jo Tough has been working hard on completing our OFSTED self-evaluation questionnaire, so thank you for all of the extra time that has gone in to it so far.
Lastly, we send congratulations to Eve, Ruaridh and Asha Sullivan on the birth of Isla Rose on 20th January, weighing 9lb 6oz. Eve was Secretary of the Committee until very recently. We send her our thanks for her hard work and congratulations on continuing to support Pre-School!