Youth Club Halloween Fun Run - 3 November 2007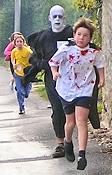 Sherington Youth Club organised a fun run with a Halloween theme on 3 November 2007 to raise money for Sam Hawks, who is suffering from a brain tumour. £2,500 was raised.
The event was supported by all ages, the young, the even younger and the not so young, including several family groups, with many in fancy dress. The overall winner was Jake Hales.
Refreshments were on sale in the Village Hall after the event.
46 more photos - courtesy of Kay Turrell.
Future Development of Sherington - Your Chance to Comment
Milton Keynes Council are holding a public consultation on the Preferred Options for its strategy for the future development of MK. Sherington is one of three villages where limited development is to be allowed subject to Parish Council approval. The deadline for submitting your views is 8 November 2007. Further details
Parish Council - Vacancy
Willen Flyers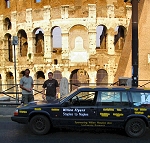 Bob Cook, John Okell, Jason Giller and Giles Fern are taking part in the Staples2Naples race from Calais to Naples to raise money for Willen Hospice and Leukemia Research. The team, called the Willen Flyers, are driving a £80 Volvo and will be leaving on 20 September 2007. They will be posting daily updates on www.willen-flyers.com.
Donations can be made online at www.justgiving.com/willen-flyers
26 Sept Update: the Flyers have successfully reached Rome and are now on the way home. Total raised is currently £3355.
GoogleMaps
An interactive map of Sherington from GoogleMaps is now available. Zoom in/out, pan, view a satellite photo, etc.
We are 10 years old!
The web site is celebrating its 10th birthday. It started with just a few simple pages in the Summer of 1997 (see the Archive) and has steadily grown to around 350 pages, plus hundreds of photos. Here's to the next 10 years!
Sherington on YouTube
Sherington has now found its way onto YouTube, with a couple of local videos being uploaded recently. More information....
Willen Hospice Trailer Auction - 21 July 2007
The annual trailer auction, held in a marquee in the White Hart car park, raised £1100 despite the threatening wet weather.
School Jubilee Fun Day - 30 June 2007
Around 100 photos, and 4 short video clips (for the first time on our local web sites!), taken by the Sherington Historical Society of the many activities and attendees of this event are now available on the SHS website.
SHS Scarecrow Competition June 2007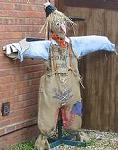 The winners were:

1st: 'Goliath' - Ryan Tanner, High Street
2nd: 'Mr Just Learning' - Joshua Temple, Perry Lane
3rd: 'Spud' - Jess Line, Crofts End

38 Photos on the SHS web site.
There is also a photo of the 'Angel of the South' scarecrow, plus a link to the Newcastle Sunday Sun newspaper which featured a report on it.
Parish Plant Sale - 2 June 2007
The Parish Plant Sale on The Knoll on 2 June raised over £900 which will be divided between the local churches, SCAN magazine and the growers.
May Day Celebrations - 7 May 2007
The drizzle didn't stop the children from Sherington School dancing around the Maypole at 11am on 7 May on The Knoll.
The Yard of Ale competition attracted three entrants, but only one lady volunteered for the half yard of ale. Refreshments were available, plus stalls manned by Pre-School and the Sherington Historical Society. Philip Smith was again Master of Ceremonies. More photos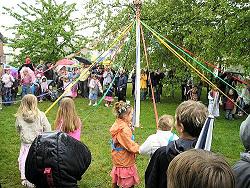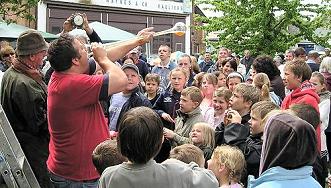 MK Council - Borough Elections - 3 May 2007
Sam Potts (Lib Dem) is the new Councillor for Sherington Ward on Milton Keynes Council. He beat Keith Fraser (Conservative) by just 10 votes.
Turnout in Sherington was much higher than in any other ward (1955 of the 3287 electorate voted - 59.48%)
| | | |
| --- | --- | --- |
| Name | Description | Votes |
| Sam Potts | Liberal Democrats | 921 |
| Keith Brian Fraser | The Conservative Party Candidate | 911 |
| Rhiannon Sarah John | The Labour Party Candidate | 74 |
| Dana Green | UK Independence Party | 48 |
Pre-School - Job Vacancy
Sheringtonians on TV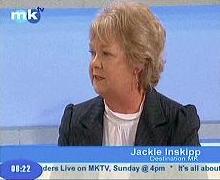 Jackie Inskipp was one of the guests during the first week of the new local TV station, MKTV. She was interviewed by presenter Richard Carr about Destination Milton Keynes, which is the local Tourist Information Service.
MKTV was available on satellite on Sky Channel 227. It was free-to-air, ie: a Sky subscription was not required. However, after just a few months on air, it has closed down due to financial difficulties.
Local Bus Timetable
The latest issue (April 2007) of the bus timetable (PDF file) for the Olney/Sherington area is now available for download from the MK Council website. It includes services 1/1A/1B/24/42/P1.
MK Council - Borough Elections - 3 May 2007
There are 4 nominations for the single vacancy to represent Sherington Ward on MK Council. The current Councillor, Pat Seymour (Lib Dem), is not seeking re-election. The local Polling Station is the Village Hall. Polling is from 7am to 10pm on 3 May 2007. Sherington Ward includes many neighbouring villages (eg: Emberton, North Crawley, Chicheley, Lathbury, Stoke Goldington, Astwood and Moulsoe), not just Sherington itself.
| | | | |
| --- | --- | --- | --- |
| Name | Description | Address | Proposers |
| Keith Brian Fraser | The Conservative Party Candidate | Barnby Villa, Newport Road, Emberton, MK46 5JD | Carole R. Fraser, Yvonne M. Terry, Richard J. Gates, Patricia M. Townsend, Donald K. McLean, Peter J. Geary, Rodney A.L. Newth, Steven A. Hunter, Rachel Baines, Ian Baines |
| Dana Green | UK Independence Party | 26 East Street, Olney, MK46 4AP | James Washington, Jenethea I. Washington, Daniel Washington, James B. Fleming, Patricia A. Fleming, Lucilla K.H. Pease, Arthur D. Pease, George T.M. Davies, June E. Davies, Lesley A. Mountford |
| Rhiannon Sarah John | The Labour Party Candidate | Talbots Hyde, Olney, MK46 5NP | John H. Ennis, Diane Ennis, Cynthia J. Cartwright, Neil W. Stanley, Geoffrey L.B. Knowles, Stephen R. Martin, John L. Wilson, Margaret Chisholm, David F. Chisholm, Barbara Warren |
| Sam Potts | Liberal Democrats | 18 Orchard Way, North Crawley, MK16 9LU | Patricia M. Seymour, Joan E. Mitchell, David Levine, David R. Hunt, Ann Sharpe, Harriet L. Milner, Margaret A. Hart, Pearl Teasdale, Emlyn B. Williams, Joyce Laval |
Parish Council Election - May 2007
As there are just 7 nominations for the 7 vacancies, there will be no contest. Six of the current councillors are standing for another term of office. However Bob Finn is retiring and he will be replaced by Ian Thomson.
Name
Description
Address
Proposer, Seconder
Peter Frederick Burton
Local Resident
46 Carters Close
Lara J. Bruce, John R. Thomas
Peter Michael Cook
Resident involved
in Agri-business
Bakers Farm, 59 High Street
Dianne E. Stewart, Peter Watts
David George Hyde
Retired Teacher
32 Carters Close
Oliver A.L. Powell, Kay S. Turrell
David Arthur Keene
6 Crofts End
Simon A. Adams, Gillian Rose
William James Lewis
Active Local Resident
The Barn, Newport Road
Ruth Thomson, Wendy L. Austyn
Ian Colin Thomson
36 Carters Close
Anthony J. Pilcher, Alan N. Sims
David Graham Wright
5 Carters Close
Paul A. Tough, John C. Grant
Fundraising for Pre-School
Do you shop online? If so, you could be raising money for Pre-School, without it costing you a penny extra! Over 350 top retailers will make donations. Click here for full details
Pre-School Easter Fayre
The Easter Fayre on 24 March 2007 was opened by the Mayor of Milton Keynes. There were lots of games and activities (face painting, crafts etc) for the younger ones, whilst adults had plenty of ways of contributing to Pre-school funds including various stalls, a raffle and a silent auction. Refreshments were available, with the Milton Keynes Salvation Army Band on hand to provide music. Almost £1000 was raised. Read the Thank you message from Paula.
Click here for more photos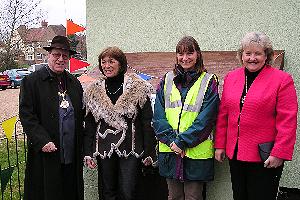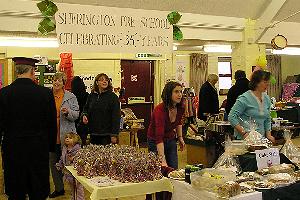 Council Tax 2007/8
The Council Tax for the year starting 1 April 2007 has been announced: details.
Local Elections
There will be elections for both Sherington Parish Council and Sherington Ward of Milton Keynes Council on Thursday 3 May 2007.
If you are 18 or over, and live locally, you may be eligible to become a Parish Councillor. For further information, see www.nalc.gov.uk/becomeacouncillor/index.html, or contact the Parish Clerk for a Nomination Form.
Sherington Event
The Sherington Event planned for 30 June 2007 has been postponed to 2008. It had been hoped to attempt to break a suitable record for the Guinness Book of World Records, followed by a summer evening party. However, not enough people had volunteered to help organise the event. Organisation for next year will start earlier to allow longer to prepare - look out for publicity in the autumn.
Recipe Book
Elaine and Emily Tucker are hoping to publish a book of their favourite recipes in aid of the RSPCA. If you have any recipes you would like to have included, please submit them to Elaine or Emily at 9 Church Road.
Stonepits Close
The Parish Council invites bids to use Stonepits Close in Mill Lane from 2 May to 1 November 2007 for the purposes of mowing/grazing of cattle (excl bulls), sheep or horses. Sealed bids should be submitted to the Parish Clerk by 6pm on 1 May 2007.
Bunting Required
Can you help? Sherington Pre-school are holding their Easter Fayre on 24th March. As they are celebrating their 35th year, it will be a bit special this time and the opening will be by the Mayor of Milton Keynes.
To liven the Village Hall area up and help create a party atmosphere, they are looking for bunting. Do you have any they could borrow, or do you know someone who does? Please contact Pre-School or the Committee if you can help.
Fancy Dress Sponsored Run
On Saturday 27 January 2007, the Youth Club organised a very successful sponsored fun run around the village in aid of one of their members, Edward Coles, who has leukemia. Around 100 young people, and some not so young people, took part dressed in pyjamas and fancy dress, and were watched by many more. Refreshments were served in the Village Hall afterwards. Click here for 6 Photos of the event, courtesy of Michelle Lacquiere.
Twinning Association
The Twinning Association is seeking a new Secretary to join the committee. Duties include minute taking, general correspondence and the occasional newsletter, with about 9 meetings per year. Please contact Bill Lewis (Tel: 613171). Twinning Association website
School
The School is planning to hold a 1950's themed fete in the school grounds in July 2007, to commemorate the 50th anniversary of the current school site. The newly reformed PTFA (Parents, Teachers and Friends Association) is seeking any memorabilia relating to the school and previous students. Please contact the School if you have anything of interest.
New Parish Councillor
Milton Keynes Hospital NHS Foundation Trust - Election to Members Council
Milton Keynes General NHS Trust is holding an election for five new members for their Members Council. Two of these will represent the Sherington area (which also includes Olney and Newport Pagnell).
Nominations close at 12 noon on Monday 12 February 2007. Further Details (Word file)
January Parish Council Meeting
The January meeting of the Parish Council will take place a week later than normal and in a different venue: on Tuesday 9th January in the School (the monthly meeting of the Historical Society takes place on the second Tuesday in the month in the Village Hall).
Houses For Sale
The following houses have recently been advertised for sale. Details are available from local estate agents, especially those in Newport Pagnell or Olney.
3 bedroomed stone cottage, £350,000.
3 bedroomed chapel conversion, £228,000.
3 bedroomed Victorian cottage, £275,000.
4 bedroomed detached house, 18thC, £699,995.
3 bedroomed link-detached house, £252,500.
More...