Fundraising
The 'Give A Tin' Day raised £426 and a large amount of foodstuff for the Salvation Army.
This year's Traidcraft Event raised £1200.
White Hart
The Swan Inn
The refurbished Swan Inn re-opened as a Free House under new management at 1pm on Friday 4 December 2009. Food will be available from late January. Website: www.swaninnsherington.com
The new owners are Nikunj, Kiran and Girish Patel, who also run the The Royal Oak Club in Bletchley.
Sports Pavilion - Official Opening Ceremony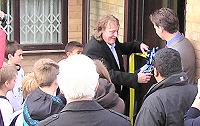 The official opening ceremony for the refurbished and extended Sports Pavilion, Perry Lane, was held at 11am on Sunday 15 November 2009. The special guest, Pete Winkelman, Chairman of MK Dons FC, cut the ribbon.
Virginia House Stores - Closure
Virginia House Stores will be closing down in January 2010, although the newspaper delivery service will continue until June 2011. The decision to bring forward the date of closure from mid-2011 has been taken as a result of the break-in/burglary on Sunday 20 September 2009, the third such event in five years.
Read the full Announcement from Pam and Alan Sims
Open Village Meeting - Future of Village Facilities
Over 100 people attended the meeting in the Village Hall on Saturday 5th September 2009 arranged by the Parish Council to discuss the future of the village facilities, primarily of the village shop although there are related wider issues too.
Alam Sims kicked off the meeting by explaining that the Virginia House Stores would be closing on his and his wife's retirement in 2 years time and he was keen to work with the village to ensure that appropriate alternative facilities could be established for the future. He presented various statistics about its use: 90% of the village do not use it regularly (apart from newspapers) and much trade comes from outside the village.
For the rest of the meeting the audience were divided into a dozen groups to discuss the issues, and their thoughts were then presented to everyone. These included potential locations for a new shop, services that might be offered, combining the Post Office and shop, etc. Castlethorpe might provide an example of what could be done. The Parish Council explained that they were not permitted to run a shop directly themselves but are planning to conduct a Feasibility Study into options, possibly leading to another Open Meeting in the New Year.
Note: The Swan will be re-opening as it now has a new owner. The Post Office closure is due to ill-health, not because of the Post Office's closure programme, and therefore in principle is only temporary.
Sherington Summer Sports Programme - 8 to 15 year olds - Details
NEW ISSUE! Sherington Welcome Pack - July 2009

Mark Vale and Sherington Historical Society have updated the Welcome Pack, the 28 page booklet giving details of Sherington's community organisations, facilities and services for the the benefit of new (and existing!) residents. The first issue was delivered to each house in Sherington during October 2008. A new and updated issue has now been issued (25 July 2009) and is available for download.
It is a 1.21MB PDF file, which can be viewed using Adobe Reader. It is designed to be printed double-sided on A4 paper and then folded in half - the page numbering will then make sense!
White Hart - Christmas Menu
It may only be July, but the White Hart is taking bookings for Christmas. The Christmas Menu features 6 starters at £6, 6 mains at £12 and 6 desserts at £4.50.
Violin and Accordion Tuition
Tuition for violin and accordion is now being offered in the village by Caroline Mitchell of Crofts End, who is a professional musician and taught at Rugby School prior to moving to Sherington. She caters for all ages and abilities. Contact details are on the Village Services page.
MK Midnight Moo

On July 18th 2009 Paula Noble will be taking part in the 'MK Midnight Moo' raising funds for Willen Hospice. It's a 10-mile ladies only sponsored midnight walk..



Would you like to sponsor Paula?



In addition to the traditional methods of payment (cash/cheque - contact Paula at 28 Carters Close, Tel: 216925, Email: paulandpaula@talktalk.net ), you can also sponsor her online by clicking on the 'Donate!' button on the right or by going to her 'Justgiving' page at http://www.justgiving.com/paulanoble1. You can use credit or debit cards and, if you are an income tax payer, Willen Hospice will automatically get around 20% more, thanks to Gift Aid.
SHS Scarecrow Competition 2009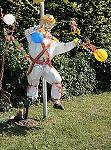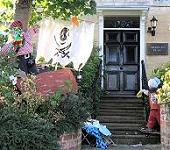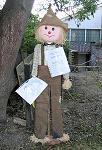 There were 31 entries judged by Chris Stapleton.
White Hart - 10th Beer and Sausage Festival
'BimboButterkek' has posted a video of this year's White Hart Beer and Sausage Festival on YouTube. Click here to view
More than 4600 pints of beer/cider and 3600 sausages were consumed. Just under £1200 was raised for Willen Hospice.
St Laud's
St Laud's will be closed for 8 weeks from Monday 8 June for 're-ordering', which involves creating two interior rooms, containing a kitchen, toilets and meeting areas, at the West end. The font will be moved to near the North door. Services will be held in Sherington CE School.
The changes do not meet with everyone's approval - the June issue of SCAN magazine contains a letter from 'Concerned Villagers' who have been opposing the plans for the past two years and are aggrieved that their views have been disregarded.
Development East of the M1
Mark Lancaster MP has written to constituents to report that the Government's proposal for the Strategic Development Area east of the M1, involving the building of 5600 houses, has been scrapped (at least until 2026).
Sherington FC - We are the Champions!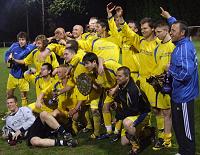 Sherington FC achieved the double on Tuesday 12 May by winning the North Bucks & District Football League Intermediate Division Cup Final, beating Silverstone FC in extra time. They had already been crowned champions of the Intermediate Division, earning promotion to the Premier Division.
To cap a very successful season, they have also earned the FA Charter Award.
Save The Swan Campaign - Village Survey
Latest news: The Swan now has a new owner and it is currently being refurbished before reopening in due course.
31 May: click here to see the survey results. There were 88 responses.
Sherington residents will shortly be receiving a copy of the Swan questionnaire through their letterbox. This survey is intended to find out what villagers would like the Swan to offer when it re-opens, in order to help secure a viable future.
If you prefer, you can fill in the online version of the survey form. It's quick and simple. There's also a Word copy you can download and email back, or print out.
Whichever method you prefer, responses should be submitted by 16 May 2009.
May Bank Holiday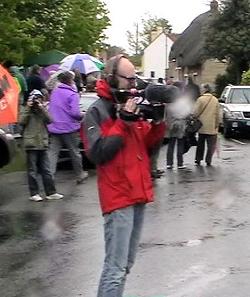 The damp weather did not stop the children from Sherington CE School dancing around the maypole on The Knoll on the May Bank Holiday morning as usual. This was followed by the Fun Run around the village organised by the Youth Club. This year, the events were being filmed by Channel 5 for a programme to be shown in the autumn. The White Hart held its 10th Sausage and Beer Festival over the weekend, attracting a large attendance.
Videos: Maypole Dance 1 -- Maypole Dance 2 -- Youth Club Fun Run

Photos: Dancing Around The Maypole ---- May Day General
Youth Club Fun Run Start ---- Youth Club Fun Run Finish

Sherington FC
Congratulations to Sherington FC who have reached the Intermediate Division Cup Final in the North Bucks & District Football League. They play Silverstone FC at Buckingham Town FC at 7.30pm on Tuesday 12 May 2009 and are hoping for a large turn-out of supporters to cheer the local team to victory. Further details.
Google Street View

Sameon has got one up on Sherington by being the first to be included in Google's new Street View. Take a virtual walk around Sherington's twin village, starting outside the church, by clicking here.
Closure of The Swan
LATEST: Around 50 people attended the open meeting on 17 April 2009 at the Pavilion, Perry Lane Sports and Recreation Ground chaired by Mark Lancaster MP. It was agreed that every effort should be made to re-open the Swan, but it was important that it should be viable and therefore needed to provide the right kind of facilities. The reasons for the previous decline in custom were discussed. It also needs to be complementary to the The White Hart. A 4-point plan was agreed starting with a survey of villagers to determine exactly what sort of facilities were preferred. The campaigners will work closely with both the Parish Council and Charles Wells.
Would you like to run the Swan? There are several options for the right person(s):

Charles Wells are offering a tenancy agreement or lease - Details
For details of the freehold please contact the agents Gerald Eve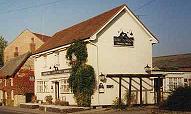 Charles Wells closed The Swan at the end of business on Sunday 8th February 2009.
The Swan's customers are dismayed by this decision and they are organising a 'Save the Swan Sherington campaign'. They have set up a website to publicise the campaign: www.savetheswansherington.741.com, where you can add your names to a petition. There are also email links to Charles Wells and our local MP, Mark Lancaster. You can also email the campaign manager, William 'Griff' Griffiths. A statement from Charles Wells justifying their action has now been published on this website.
Charles Wells have subsequently put the freehold up for sale, but they are also advertising for a new tenant, as an alternative solution. A private meeting with the campaign leaders was held on 1 April.
The Swan is one of the two surviving pubs in Sherington, and its history extends back to the 1700's. The other pub, the White Hart, was closed in 1996, but a campaign by villagers was successful in getting it re-opened. In the past there have been 4 other pubs in the village: the Royal Oak, King's Head, Crown and Castle and the Rose and Crown.
Parish Council Announcements
Parish Council - Vacancy for Councillor
There is a vacancy for a Parish Councillor to serve on Sherington Parish Council, caused by the resignation of Cllr Ian Thomson. Further details, including timescales for residents to submit a formal request for a bye-election.
Local Crime Statistics
Thames Valley Police are now publishing the local crime statistics on their website. The details are for the area they call 'Rural North' which extends from Sherington to Stoke Goldington, rather than for Sherington parish. In the three months from September to November 2008 there were 12 crimes, down from 31 in the same period in 2007, plus 7 cases of anti-social behaviour (down from 9).
The information can be viewed on an interactive map and compared to other areas. The crime rate in this area (5.1 per 1000 population) is less than the average for the Thames Valley Police area as a whole.
Their website also includes a monthly report from PCSO Tom Booth.
The NAG Newsletter says that there were 4 visits to Sherington for speed enforcement which caught a total of 14 drivers in the 10 months since March 2008.
More...