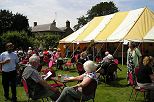 The Fete had been advertised as 'A Fantastic Fun Day For All The Family'. It was certainly 'fantastic'. It exceeded all expectations.
The weather was perfect: warm and sunny.
£12,856 was raised (before expenses).
There are 90 fete photos on the web site - check them all out - see the list of pages below.
Did we miss something? If you have a fete photograph that you would like to share with web site visitors, please email it to us and we will add it to the collection.
New Information - 90 New Fete Photos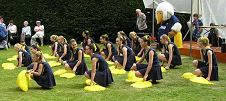 Pre-Fete Information