Thanks to Sue Herbert
Read the tribute and thank you to Sue Herbert on her departure at the end of July, written by Miranda Koss.
June 2007
It is with huge sadness that I must inform you of Sue Herbert's resignation as Supervisor of our Pre-School from 31st July 2007. Sue would have been in this role for 10 years this October. Sue has explained that this is due to her husband accepting a job overseas and she will be joining him on their new adventure.
Sue has worked extremely hard with the staff over the years to adapt to changing regulations and parental expectations to ensure we have a thriving Pre-School that remains at the centre of the community and continues to offer children a happy and stimulating start to their education.
We are sorry to see her go. She has been a marvellous, hard working Supervisor as we can tell from our recent Ofsted inspection success and the happiness of our children at Pre-School. Sue has stressed that she will do all in her power to ensure a smooth transition to a new regime.
We will miss her very much but wish her every success for the future.
Paula Noble
Chair - on behalf of the Sherington Pre-School Committee and Staff
June News
We're all enjoying the wonderful weather this term - even on rainy days we have usually been able to make use of our newly improved outdoor play area.
As the older children are in their last term at pre-school, we are once again sharing a programme of visits and activities with our friends at Sherington School. We have also welcomed the early years team from North Crawley School to pre-school, and all of the children are getting excited about going off to "big school."
We look forward to welcoming Alexander, Amelia, Fabien and Oliver in the second half of term, so that they can become familiar with life at pre-school before coming back in September. If your child will turn 3 in the next year, please let us know so that we can include them in our plans and projections. Our numbers for 2007-2008 are looking very healthy, and staff and committee members are working hard on plans for the future. Over the past year, we have had a fantastic OFSTED inspection and a wonderfully successful fund-raising programme, so we have a great base on which to build.
On a personal level, it is with mixed emotions that I note that this will be my last term at pre-school. I'm very excited about our new opportunities overseas, but I will miss all at pre-school ­ especially the children! Even when the admin and paperwork have been less than fun, it has always been a joy to see the world through 3 or 4 year old eyes. Many thanks to all of the staff, committee members, parents and children who have worked so hard over the years to make Sherington Pre-school a very special place. It's been a privilege to work with you all.
Sue Herbert
A note from Paula Noble (Chair):
MAY DAY - We raised £70 to go towards the pre-school costs. Thank you to everyone who supported us.
Please refer to the Sherington website for more information about the vacancy for pre-school Supervisor. If you know of anyone who might be interested, please do pass on our details to them. Your help in publicising this would be much appreciated.
We look forward to seeing you all at our stall on Saturday 30th June at the Sherington C of E School to join them in celebrating their 50th year, and then at the Newport Pagnell Carnival on 7th July. We would welcome any offers of help. Lots to look forward to!
Easter Fayre - 24 March 2007
The Easter Fayre on 24 March 2007 was opened by the Mayor of Milton Keynes. There were lots of games and activities (face painting, crafts etc) for the younger ones, whilst adults had plenty of ways of contributing to Pre-school funds including various stalls, a raffle and a silent auction. Refreshments were available, with the Milton Keynes Salvation Army Band on hand to provide music. Almost £1000 was raised. Read the Thank you message from Paula.
*** Click here for more photos ***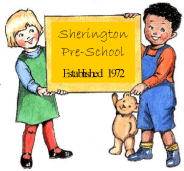 February 2007
As we mentioned last month, we had a visit from our OFSTED inspector at the very end of last term. The inspection was not due for another 6 months, and as no notice is given, we were somewhat surprised, though not unprepared! The inspector made judgements in five areas on the quality and standards of childcare and nursery education; an integrated inspection which covers all aspects of our operation.
Our excellent inspection report has now been published, and is available at Pre-school or here on the website. The report contains a great deal of information about how we work with the children, and it is gratifying to have our work validated by OFSTED. I hope that you will take the time to read the report and join with us in celebrating a wonderful result for Sherington Pre-school.
Only one recommendation was made "to secure future improvement," and this was a minor procedural one for which we have already produced the required action plan. Because of this one recommendation, the quality and standards of care have been judged as "good: this aspect of the provision is strong."
The quality and standards of our nursery education have been judged as "outstanding: this aspect of the provision is of exceptionally high quality," with no recommendations for improvement. I would particularly like to thank all members of staff and the committee (present and past), whose dedication, hard work and expertise have been rightfully praised by the inspector. The children are indeed fortunate to have such a strong team working for their benefit.
We have more children at pre-school, and numbers are increasing all the time. I even had a phone call from Germany from a family who are moving to the area and read the OFSTED report on the website! If you are thinking of Sherington Pre-school for your child, I would urge you to come in for a visit. We are happy to receive registration forms anytime after a child's 2nd birthday (available on the website or from pre-school), and children may start during the term when they will turn 3.
For the first few weeks in February, the children will be doing a special topic on music, so listen out for the hopefully harmonious sounds coming from the village hall. If there are any musicians in the SCAN community who might be willing to ~ome in and play for the children, please contact Sue Herbert on 01908613985.
Fund-raising is an on-going process, and we are very grateful for a £500 grant from Newport Pagnell Carnival, after our involvement last year. We are finalising our order as I write, but we are especially looking forward to a new sand/water play centre. We are also delighted with the new storage arrangements in our storeroom, made possible by a grant from Milton Keynes Community Foundation and the Local Network Fund.
Pre-school's Easter Fayre will be held on Saturday 24 March. More details will follow next month, but please put the date in your diaries. SH
January 2007
As I write in the quiet days after Christmas, the frantic rush of the end of term seems a long time ago. The nativity performance was wonderful - the children rose to the occasion and especially enjoyed having such an appreciative audience. We're all looking forward to viewing the video - many thanks to Catia for doing that. Thank you also to David, whose piano accompaniment added so much to the event.
The last day of term had the children celebrating with their Christmas party, with an entertainer, lots of wonderful things to eat and a visit from Father Christmas. We hope that Father Christmas reads this publication, because we would all like to send our thanks that he took time out of his busy schedule to come and see us!
Just over a week before the end of term, we had another surprise visit - from our OFSTED inspector, Dorcas Forgan. She spent two days with us, observing the standards of care and nursery education we offer and talking to children, parents, staff and committee. We will have more information for you next month, but our OFSTED inspection was a very positive experience.
On Wednesday 24 we will hold a coffee morning and informal open day. These sessions give us an opportunity to chat to current and prospective parents and to share some information about the Foundation Stage curriculum and the way we work. In January, we will focus on Communication, Language and Literacy. We hope that you and your child will feel free to come along.
We return to pre-school on Thursday 4 January 2007, and our topic will be "opposites." SH
2007 Diary
Thursday 4th January - Term starts
Wednesday 24th January - Coffee Morning and Informal Open Day
Saturday 24th March - Easter Fayre

1pm - 3.30pm - Village Hall

Special event this year to celebrate Pre-school's 35th year
Opening by the Mayor of Milton Keynes

Raffle (£1 per strip from Virginia House Stores).
Tombola, bric-a-brac, cakes, children's crafts and games, Usborne Books, Tiny Togs, Sherington Needlework Group, Sherington School colouring competition, face painting and much more...

**** Can you help? Pre-school is looking for bunting it can use for this event ****
**** to help create a party atmosphere around the Village Hall area. ****


1st June - Closing date - Writing Competition
17 September - Annual General Meeting - 7pm at Sherington CofE School
1 November - Open Day - 9.30 to 11.30 am at Sherington Village Hall