December 2005
Pre-School drew to an end this year with a Christmas Party and a visit from Santa. Great fun was had by all and a special thank you to Tricky Mickey who provided great entertainment and laughter.
A new term starts on the 4th January with the theme being "Action Rhymes". Our Friday afternoon sessions for the children who will start school in September will also resume this term, and we will continue our programme of visits and activities with Sherington School. This is enjoyable for all the children, and helps to ensure a smooth transition from pre-school to school.
Numbers at Pre-school are increasing, and we expect to be much closer to capacity next term. We urge you to let us know if your child will turn 3 in the next year and you are considering Sherington Pre-school. Visitors are welcome Monday – Thursday mornings, or telephone to make an appointment.
We would also like to take this opportunity to welcome two new children, Alexander and Connor who recently joined.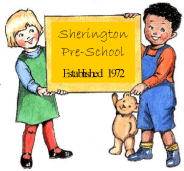 July 2005
We are all hoping for some summer weather so that more of our learning activities can take place outside. The children have been looking at the topic of sports and thinking about healtilY bodies and fitness. We all enjoyed an afternoon at Sherington School for sports on the field with class 1. In July we will be looking at journeys of all sorts.
After long-term vandalism of our outdoor storage for bikes and play equipment, we have replaced it with a new brick built shed. Many thanks to Danny Coles and John Cook and to the Village Hall committee for their help and support in helping us solve this problem. It does seem a shame that funds, which might have been spent on new equipment, have had to be spent this way instead.
Term ends on Thursday 14th July. This is the last day for James Mansell, Alexandra Bone, Taylor Beal, Olivia Gartside, Oliver Megeary, Alexandra Bruce, Eleanor Hunt, Christopher Rowe, Jade Rowe, Sonya Rowe, Josephine Hargreaves, Frances Rogers, Kaden Kent, Jordan Okell, Siena Hanneysee and Laura Tucker. We wish them all well in their new schools. The children will perform for parents and friends on Thursday 7th July and the committee will host a picnic on Thursday 14th July. Children due to start next term are very welcome to come along.
If your child has a birthday between September 2002 and August 2003 he/she will be eligible to start at pre-school during the next academic year. Please feel free to come along and see what we have to offer, check our website (follow links from www.sherington.org.uk - thanks to lan Collinge) or telephone Sue Herbert on 01908 613985 for more information. Autumn term begins on Monday 5th September.
May 2005
Summer term is a busy time at pre-school, with many new children on the register. We welcome Alexandra Bruce, Emily Reid and Alice Charles who have joined us this term and Dylan Masters who will start after half term. We also welcome Lara Bruce, who has joined the committee as secretary.
The children have been looking at mini-beasts in May which has provided much excitement. A visit to Sherington School for pond dipping gave the children the opportunity to examine tadpoles, newts and snails and we've been finding all sorts of other creatures.
Our visits to Sherington School have been great fun, as well as helping the children get to know everyone and find out what life is like at 'big school'. We have also had a visit from Chris Holen and Chris Dart from North Crawley School. We have a number of children who will go to North Crawley in September and they enjoyed meeting the people who will teach them there. Other visits which have been arranged are:
Friday 24th June - Picture books & literacy activities
Friday 8th July - Class 1 to visit pre-school for a picnic
Everyone at pre-school had a day off in May due to the village hall being used as the polling station. We all took advantage of this to organise a trip to Mead Farm. Picnics were packed and a great time was had by all!
We would like to say a very belated thank you to everyone who helped organise and who supported our Easter Fayre back in March. The Fayre was a huge success, raising over £600 for pre- school funds. We couldn't have achieved this without the help of some local businesses who kindly donated gifts for us, so we would like to thank:
Alban Hill Nursery
Smile Toy Shop
Brock Chocolates
The Entertainer
Frosts Garden Centre
Heron Opticians

Marks & Spencer
The Swan, Sherington
Tesco, Wolverton
Virginia House Stores
The White Hart, Sherington
We are currently taking registration forms for the children who will start at pre-school during the next year. Children who will turn 3 before 31 Dec 05 are able to start in September, and children who turn 3 by Easter may start in January. If you are considering pre-school for your child, please come in to see what we have to offer before the end of term.
The children at Sherington Pre-School were asked to design a picture for the fron cover of this year's Fete programme. A local artist judged the pictures and as a result, a picture by Jade Rowe was chosen. Another design by Jordan Okell was highly recommended. Christine Bearman awarded certificates to both children. Jade was also given a book token.
The winners, runners-up and ALL the other entries (including those from the School) can be seen in the Fete Art Gallery on the Fete web site.
March 2005
Firstly, we would like to welcome Alexandra Bone and Olivia Gartside who will both be starting at pre-school after half term.
The topics for the children during March are Easter and young animals. The children always enjoy this- and if anyone has any baby animals that could come in for a visit, we would be delighted to hear from you.
The coffee morning that we held in aid of the Tsunami Appeal was a great success and raised £53. Many thanks to all those who came along and supported us.
We are currently embarking on a new process of accreditation, a government backed quality-assurance scheme which shows that early years are committed to and successful at delivering high quality care and education (above and beyond the standards expected by OFSTED). The pre-school Learning Alliance has selected our group as one of 5 in Milton Keynes to be funded for this project and we look forward to the opportunity of showing parents and the wider world exactly what we provide.
From now through to the end of summer term, we have a programme of visits and shared activities with Sherington School. The children really enjoy visiting 'big school' and seeing old friends. The visits also help them become familiar with the routines of school life and mean that the transition next September is easy and comfortable.
Lastly - please come along and support our Easter Fayre on March 19 at 10 a.m. in the Village Hall. There will be fun for all!
February 2005
The children have all settled back into pre-school after their Christmas break. During January we were looking at patterns. The spots, stripes, and other brightly coloured patterns have cheered up the hall during the grey winter days. The topic for February will be light and dark.
We have some new children at pre-school this term and would like to say welcome to James Mansell, Douglas Vale, Kobie Monro and Sam Day.
As part of the community, we want to contribute to the Sherington Tsunami Appeal and at the time of writing this, we are about to hold a coffee morning with all the proceeds to be donated. Tsunami has been discussed with the children and explained that people will need their help. The children have been busy baking biscuits for the coffee morning to sell to family and friends.
A date for your diary: PRE-SCHOOL EASTER FAYRE - Saturday 19 March. There will be stalls, activities and fun for all the family and we would be very grateful for any donations for the cake stall, tombola and bric-a-brac.
On a slightly darker note, a piece of pre-school equipment has sadly been vandalised. As some of you will know, the pre-school has a small lockable container in the playground where we keep outside play equipment for the children. On more than one occasion this has been damaged and the sides caved in. This time the damage is so bad that we will have to replace the container. We do not have anywhere else to store this equipment and it is very important for the children to be able to play outside. So, a plea to all those who are using the park areas - please help us to look after the small play area and everything in it.
If your child is over 2 and you are considering Sherington Pre-School, please come along and visit us. Children can start at the beginning of the term that they will turn 3 and are eligible for funding from the term following their 3rd birthday.