1 July 2008
Visits from people who help us
The children welcomed a variety of exciting visitors to pre-school as part of our recent 'People who help us' theme.
Five firemen from Blue Watch came from Newport Pagnell Fire Station in their shiny red fire engine. Steve dressed up in the uniform, showing the children the helmet and two visors, the jacket with fluorescent stripes and the trousers with built-in knee protection. The children were then allowed to sit in the cab and all of the children had a turn at squirting water across the car park and trying to knock over a bollard.
Another visitor was PC Kendall who spoke to the children about his job as a policeman. PC Kendall explained the different bits of his uniform and all of the items attached to his belt, including the handcuffs, torch, baton and handset. The children had a go at trying to lift the very heavy vest that PC Kendall wears at all times. The children then got a chance to go out and see the police car and hear the siren.
Two pre-school mums also came to tell us about their jobs. Rachel is a community nurse. She explained the importance in her job of keeping her hands very clean and also showed the children her stethoscope; the children had a turn listening to their heartbeats. A few of the children and adults got bandaged up and Barbara had her blood pressure taken.
Una is a science teacher and came to a Fun on Friday session in her white lab coat and special goggles to conduct some experiments. With just bicarbonate of soda, red food dye and vinegar she created an explosion like a volcano erupting. Other experiments separated colours on a special type of paper, and made a rubber glove stand up and a lid pop off a container.
Thanks once again to everyone who came to tell us about their important jobs.
25 May 2008
Fundraising
After our very successful Spring Fayre, we raised £62 at our small stall on the Knoll on May Day, helped no doubt by the fine weather on the day. The pre-school children in attendance enjoyed the opportunity to have a brief dance around the maypole at the end of the festivities.
We will also be having stalls at the Plant Sale on the Knoll on 14 June and at the Newport Pagnell Carnival and North Crawley Fair, both on 5 July.
As well as raising funds for the pre-school, we like to support a charity each year and will be repeating the Big Toddle on the last day of term on 16 July to raise money for Barnardo's.
Visits to 'big' school
All of the children have enjoyed their visits to Sherington school in recent weeks. The children who will be attending the school from September will make extra visits before the end of term.
The pre-school would like to thank Mr Storey for his warm welcome during these visits, as well as for his continued assistance with the pre-school vegetable plot; our runner beans have now been planted out.
Outdoor play
When the weather permits (which it has recently), we have been holding some of our sessions in the pre-school play area.
A most successful Spring Fayre
The Spring Fayre on Saturday, 5 April was a great success despite some less than pleasant weather on the day.
The fayre was opened by Gully Mouse from Gulliver's World, who stayed to pose for pictures with the children (and some adults!), and to visit the many stalls.
Children and adults enjoyed the activities on offer – hook-a-duck was as popular as ever, the tombola stalls were almost sold out, the crafts and facepainting were very popular with the children (thanks to 'the girls' for helping out), and the refreshments and cake stall had scrumptious treats on offer.
The success of this year's fayre was in large part due to the extensive work put in by the committee chair Jo Cowley, whose boundless enthusiasm and calm leadership meant that everything ran smoothly on the day. Thanks to Jo and the committee, the generosity of those attending and those who donated their time or raffle prizes, the pre-school raised about £1,100, which appears to be a record amount.
| | |
| --- | --- |
| | Pre-school children: past, present and future enjoyed the day |
*** 56 photos of the Spring Fayre ***.
20 March 2008
Planning for the Spring Fayre on Saturday, 5 April from 1.30-4.00 is going well. The children will be singing a few songs at the opening and have already been practising.
Raffle tickets are on sale at Virginia Stores and pre-school in advance of the fayre. They cost £1 a strip. We have some great prizes on offer, including family passes to Mead Open Farm and Kidsplay, six ballet lessons (thank you to Melanie Morton for this kind donation), as well as books, chocolates, jewellery, plants and flowers.
Once again, please let the pre-school staff know if you are interested in supporting the fayre through donations of bric-a-brac (clean and in good condition) or raffle prizes.
Little chefs
Our cookery theme in February was very popular. The children made a wide range of food, including bread, fruit salad and pizza. The pre-school is putting together a book of the recipes that the children made at pre-school, as well as a selection of the children's favourite things to cook at home.
Musical visitors
During our musical instruments theme, local pianist Lydia, who played during our Christmas party, visited us again, and on 17 March Philip Smith sang and played his harmonica and accordion. The children sang along to 'ABC' and 'Mary had a little lamb'. Thanks to Lydia and Philip for giving of their time so freely; the children really enjoyed the experience of hearing and seeing instruments being played before them.
Themes for next term
After Easter, we are looking at human babies and baby animals, followed by two weeks learning more about jungle and zoo animals.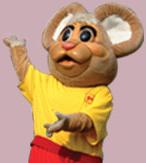 1 March 2008
Gully Mouse to open 5 April Spring Fayre
Work is well under way preparing for Sherington Pre-school's 2008 fayre, which will take place on Saturday, 5 April between 1.30 and 4.00 in the village hall. The money raised at the fayre will fund arts and crafts activities, new play and educational equipment, toys, books etc. Our fundraising activities are essential to ensure that Sherington retains high-quality early years educational provision.
We are very excited that Gully Mouse (of Gulliver's World amusement park fame) will be attending to open the fayre. Come and join the fun and meet Gully! Black Thunder from local radio station Horizon will also be making an appearance.
Those less interested in a person-sized mouse or local radio might find themselves tempted by the other delights on offer - a raffle; refreshments; face painting; tombola; hook-a-duck; photography; lucky dip; and stalls selling books, cards, cakes, children's clothes, jewellery and crafts. Raffle tickets are available at £1 per strip from Pre-school or Virginia Stores.
Last year's fayre was a great success and we'd be delighted to see as many Sheringtonians as possible at this year's fayre. Once again, please let the pre-school staff know if you are interested in supporting the fayre through donations of bric-a-brac (clean and in good condition) or raffle prizes. Any local businesses who might be interested in hiring a stall for the event or donating any raffle prizes are also welcome to contact pre-school.
Dates for your diary: 14 February - Open Day. 5 April - Spring Fair.
26 January 2008
Spring Fair – 5 April
We will be holding our annual fair on Saturday, 5 April from 1.30 to 4.00 in Sherington Village Hall. Please put the date in your diaries. We had a fabulous turnout last year despite some poor weather and we would love to see you all again this year.
The fair is in its initial planning stages but please let the pre-school staff know if you are interested in helping out. We would be grateful if anyone is able to donate any bric-a-brac (clean and in good condition) or raffle prizes. Please also let us know if you are aware of any local businesses who might be interested in hiring a stall for the event or donating any raffle prizes.
Open day – 14 February
New and prospective parents are invited along to our next Open Day on Thursday, 14 February from 9.30 in the Village Hall. It's a wonderful opportunity to see pre-school in session. Please ask at pre-school if you would like further details.
Thank you to Nissan and Andrew Charles
Thanks to the generosity of Nissan, pre-school now has two laptops: one will be used by the children as part of their introduction to computers and one will be used by staff and the committee.
Jewellery donated by Andrew Charles in Newport Pagnell has also helped to raise money for preschool at various events over the Christmas period.
Pre-school outdoor play area
The committee is investigating options for replacing the existing playhouse. We are hoping to get funding to cover much of the cost.
Spring term
The spring term has started well and we have welcomed several new children. Our first theme for the spring term was the ever-popular dumpers, diggers and tractors. We are currently working with shapes before moving on to cookery.
The dates for spring term are: 7 January–15 February and 25 February–4 April. Please be aware that the pre-school will also be shut on Good Friday and Easter Monday (21 and 24 March).