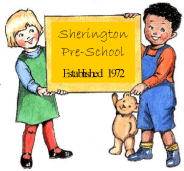 Newsletter September 2004
Dear Parents and Carers,
Welcome back to Pre-school! We all feel rested and refreshed after our break, and hope that you do too. We are enjoying the children's stories of what they did and where they went during the holidays, and are helping them to settle into all the routines at pre-school. Our theme this term is Harvest, and we will use this as a framework for helping the children to progress in all areas of learning.
Welcome Pack During this first week, you should receive our newly up-dated Welcome Pack which includes useful information about Pre-school and how we work with the children. I am working on ways to communicate better with parents about the Foundation Stage Curriculum and how we provide it, so watch this space! In the meantime, if you have any questions or observations, please ask.
Welcome! New children at Pre-school this term are Molly Hughes, Laura Tucker, Frances Rogers, Claire Maitland and Annabelle Fairchild. With a smaller group in the autumn, we have lots of time to get to know them, and all seem to be settling well. Please share with us as much information as possible about your child, and do please return the completed "All about me" sheet at the back of the Welcome Pack.
Registration We have updated our forms to reflect current OFSTED requirements and the world of mobile phones, email and websites. To ensure that we hold all the necessary information, we ask that everyone complete a new form. Registration and funding will be handled by our administrator, Claire Lawrence, who was Pre-school's secretary when her daughters were here and has now returned to relieve me of some of the paperwork!
Rota As you know, we rely on a rota of helpers (parents or carers) help us run each session. This is of enormous benefit to all concerned, and the children love to have their special person at Pre-school. Please put your name on the rota sheet in the foyer - perhaps for 2 sessions per half term - and let us know if there is a particular area or activity you'd like to be involved in. During this quieter autumn term, rota days also provide a good opportunity for you to have a look at our Operational Plan, curriculum and planning documents and your children's records, as well as time to observe your child and chat to staff.
Website Ian Collinge, who manages the Sherington website, has kindly spent time working on one for Pre-school. Once it is live, you can reach it via www.sherington.org.uk. Our Prospectus, Welcome Pack, registration form, OFSTED report and policy documents are all available there, and there will be an email link where you can reach me with any questions, comments or information. We will also post news and information as it becomes available. This is very exciting, and will provide us with a useful and more immediate way to share information, though of course everything will continue to be available on paper. Please let us know if there is anything you'd like to see on the website.
Newport Pagnell Carnival A family holiday caused me to miss what was apparently a great day, and I've had wonderful reports of the children's costumes and behaviour and the enthusiastic support of many parents. I understand that our float came 3rd - fantastic for our first attempt! We hope to buy some wonderful new equipment with the proceeds, and will report as soon as we know the details. Congratulations and well done to everyone involved, and many thanks to Zoe King and Emma Down, who were the creative masterminds behind it all!
AGM Wednesday 13 October 2004 I always hesitate to write AGM, as people seem to assume it will be boring and not relevant to them, so they stay away. Please think again! Sherington Pre-school is a community-based group, which means that it is owned and run by you. It is also the beginning of your child's "formal" education, so it's important that you understand how we work. Children learn and develop best when families and pre-school work together - after all, you are you children's first teachers and know them better than anyone. So please save the date, some along and get involved. Ther will be displays of photographs, curriculum information about the Early Learning Goals, and the opportunity to chat to staff and the parents of your child's friends.
Fund-raising Last year the committee and parents worked together to raise significant funds, and over the summer Kay and I had the pleasure of putting together a "wish list" of new supplies and equipment. We're in the process of placing orders and will report more fully when things arrive. Many thanks for all the hard work.
Student Placement Mickaela Thomson, who is about to embark on an Early Years Childcare and Education Diploma at Milton Keynes College will join us on a student placement for the autumn term, spending every Thursday at Sherington Pre-school. Mickaela has lived most of her life in Sherington, attended playgroup (before we became Pre-school), and we're delighted to welcome her back.
Dates for the autumn term are:
Monday 6 September - Thursday 21 October
Half-term holiday
Monday 1 November - Tuesday 14 December
Dates for the rest of the year will be posted on the notice board and the website. Enjoy the term, and don't hesitate to contact me with any questions or comments.
Yours sincerely,
Sue Herbert
Supervisor, Sherington Pre-school