Previous Events
Open Day - Wednesday 7th October 2009, 9.30am-11.30am
AGM - Thursday 8th October 2009, 7.30pm, Village Hall
Christmas Play - Tuesday 8 December 2009
Christmas Party - Thursday 10th December 2009
Term dates 2009-2010
Autumn term
Monday 7 September - Thursday 22 October
Half-term: Monday 26 October - Friday 30 October
Monday 2 November - Thursday 6 December

Christmas break: 6 Dec - 4 Jan
Spring term
(Fun on Fridays starts for the older children)
Monday 4 January - Friday 12 February
Half-term: Monday 15 February - Friday 19 February
Monday 22 February - Thursday 1 April

Easter break: Friday 2 April - Friday 16 April
Summer term
Monday 19 April - Friday 28 May
Half-term: Monday 31 May - Friday 4 June
Monday 7 June - Thursday 22 July



A copy of the term dates is also available for download: click here (Word document)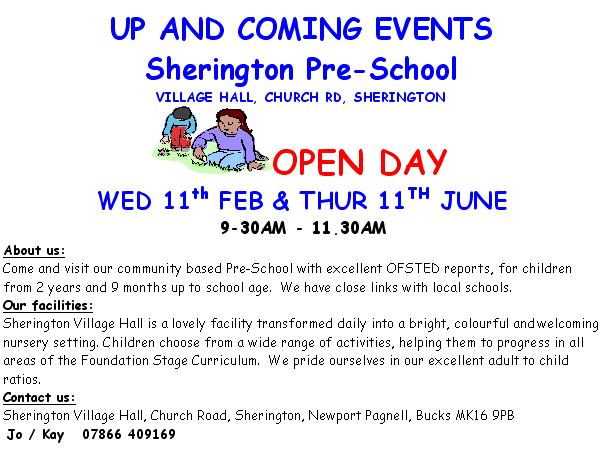 Sherington Pre-school Spring Fair 2009
Saturday, 16 May 2009
Sherington Village Hall 1.30pm to 4pm
Click here for full details
If you would like to help support or sponsor us your offers will be very gratefully received.
Thank you for everything that has been donated so far.
Click here to read the letter from Joanne Cowley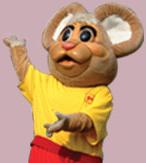 Sherington Pre-school Spring Fayre 2008
Saturday, 5 April 2008
Sherington Village Hall 1.30pm to 4pm
***Gully Mouse is coming to Sherington!* * *
Come and meet Gully and join the fun!
Raffle tickets available at £1 per strip from Pre-school or Virginia Stores
Cakes, raffle, refreshments, photography, kids' clothes, lucky dip, crafts, face painting, books, toys, hook-a-duck, tombola and more!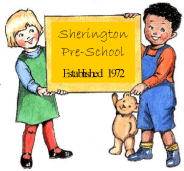 2008
Spring Term: 7 January to 15 February and 25 February to 4 April
14 February - 9.30am - Open Day/Coffee Morning
Closed on Good Friday and Easter Monday (21 and 24 March)
Saturday 5 April - 1.30 to 4pm - Village Hall - Spring Fair