Programme Of Events
STAGE AREA
12 noon
Five Star Swing
12.45
OPENING CEREMONY - The Fete will be opened by Paul Grayson, veteran fly half and player/coach with the Northampton Saints. With over 35 caps to his credit, Paul was part of the victorious England World Cup Squad in Sydney in 2003.
12.50
Five Star Swing
1.45
Diamond Theatre School
2.05
MK Donets Cheerleaders - sponsored by Jacqueline Rosemary's Health
& Beauty
2.30 - 4.10
Stantonbury Brass
5.30
Balloon Race send-off
FIELD
12.50
Junior Brass
1.50
Rock School
3.00
TEAM CHALLENGE
Archery and Veritas Football
3.30 - 4.00
TEAM CHALLENGE
Rossleigh Land Rover Team Pull and Abbeymill Homes Bungee Run
FOOD COURT and BAR
1.00 - 2.00
Bingo
1.45 - 2.30
Clarinet Quintet - sponsored by Plumbquest
3.00 - 4.00
Bingo
4.10 - 4.40
Punch and Judy
4.10 - 5.05
Grand Auction
5.05 - 5.20
Team Challenge Finale - Bex Canoe Race
5.20
Raffle and Lucky Dip Draw, Team Challenge Presentation
by Mark Lancaster MP
Some stalls and attractions may close at 4pm.
Raffle ticket sales at the Fete Office end at 4.30pm.
Please note: Timings are those currently planned, but may be subject to change.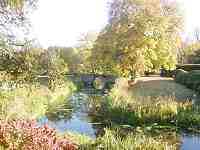 2003 Fete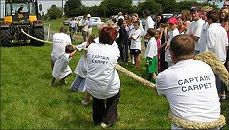 The last Fete in 2003 exceeded all expectations, raising over £10,000 for local community groups, and all who attended enjoyed a fantastic day of family fun. The 2003 Fete website gives you details of the attractions, sponsors and events, including 90 photos of the day itself, and 40 scarecrows. With your help, we hope to make the 2005 Fete even bigger and better.